Hello family,
We are 10 years old!
Our office has just hit its 10 year anniversary and we want to say thank you for all of your support! It has been a wonderful (and at times Covid-bumpy) decade, and we are so honored that you have chosen us to to be your dental health care providers.

Looking forward to another amazing 10 years!

Drs. Jessie Schwarz, Ellen Stone, Elana Norman and
Alice Kim-Bundy and our fabulous staff
Santa Monica Dentistry for Children


---
Welcome to Our Practice, Santa Monica Dentistry for Children!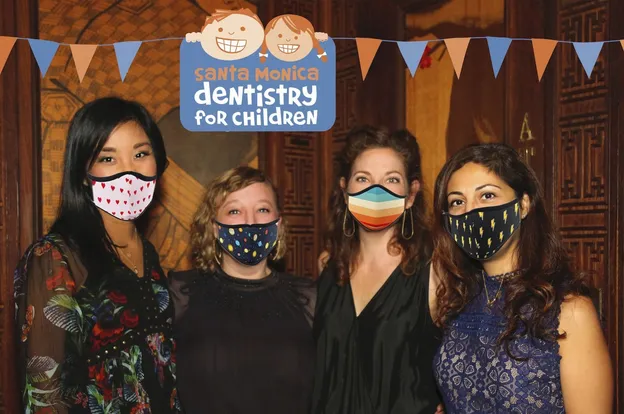 Drs. Jessie Schwarz, Ellen Stone, Alice Kim-Bundy DMD, and Elana Norman DDS, MS

Hello and welcome to our practice! We are a specialized dental office, offering comprehensive, state-of-the-art dental care in both Pediatric Dentistry and Orthodontics.
Our team of Pediatric Dentistry healthcare providers at Santa Monica Dentistry for Children includes Dr. Jessie Schwarz DMD, Dr. Ellen Stone DMD and Dr. Alice Kim-Bundy DMD. Along with their friendly and well-trained staff of assistants and nurses, the doctors will guide your child or teen down a path of optimal oral health by offering child-focused dental care in a positive environment that makes visiting the dentist fun!
Using the latest technology, we offer comprehensive dental services for children and teens, including X-rays, sealants, fluoride treatments, fillings, cleanings and regular exams to promote a lifetime of healthy smiles.

You can learn more about all of your child's treatment options from our services page.
Infants and young children:
We believe a healthy smile starts with a great beginning. Your child's first visit to our office is important, and because some children are nervous about visiting the dentist, we have created a kid-friendly office environment that will make your child's appointments enjoyable and stress-free. Using demonstrations on cute stuffed animal puppets and an explanation of our tools and what they do, we work to make every visit for our younger patients a rewarding and educational experience. Patients can choose whichever toothpaste they most prefer, including chocolate and birthday cake flavors! And if you wish, we have televisions to play their favorite movie and an extensive toy box to end their visit with a fun prize.
Older patients:
We spend extensive time with each of our patients, reviewing their oral hygiene and general oral health. Areas of concern are marked on a dental report card that the child takes home with them, to help remind and reinforce good oral hygiene habits between regular check-ups. Santa Monica Dentistry for Children believes in a team approach to preventive care, and we encourage you to take an active role in your child's dental health care. You are always welcome to accompany your child in the office and treatment areas or wait in the waiting room if you prefer. Our pediatric dentists and friendly nursing staff will work with you to create an effective prevention-focused dental care plan for your child that can be implemented at home.
Orthodontics:
Our orthodontic team, which includes Dr. Elana Norman DDS, MS and staff, offers comprehensive orthodontic care, from early intervention and space-creating appliances to traditional orthodontic treatment and braces. Both you and your children are informed about the process and steps to completing orthodontic care. Patients' education regarding oral hygiene and best care practices for their orthodontic appliances is an essential part of their treatment. To encourage a sense of responsibility, an informational packet is reviewed with each child which they are asked to review and sign, indicating that they understand and will take care of their teeth properly during orthodontic treatment.
Dr. Norman is dedicated to creating individualized orthodontic treatment plans that are specific to each of her patients, avoiding a "cookie-cutter" approach to orthodontic care. As a provider of traditional orthodontics, as well as an experienced Invisalign® provider, she is able to offer orthodontic treatment to patients of all ages, including younger children and teens as well as adults. Please see our services page for additional information about her services.
We want to thank you for choosing Santa Monica Dentistry for Children for your family's dental needs and welcome you to our practice. We are located at 2825 Santa Monica Blvd., Santa Monica, CA 90404. Together, we are confident that we can help your child achieve healthy oral hygiene habits and a beautiful smile into adulthood. Please call or contact our Santa Monica office if you have any questions or to schedule an appointment.
---